White Christmas is definitely delightful. A cold one, not so much. A reason why we have put together our 5 favorites for this time of the year.  They will not only warm your heart, but also your body and soul.

HOT CHOCOLATE
The yummilicious beverage is believed to have been created by the Mayan around 2,500–3,000 years ago. The cocoa drink was an essential part of Aztec culture by 1400 AD, and they referred to it as xocōlātl. The drink became popular in Europe after being introduced from Mexico to the New World and has undergone multiple changes since then. To have this prepared with water or milk tends to be a personal preference, and I like both. But when it comes to hot chocolate add-ins, nothing beats traditional marshmallows or whipped cream. The lightness and creaminess created by melting marshmallows or whipped cream into hot cocoa beautifully balance the thickness and richness of the chocolate perfectly.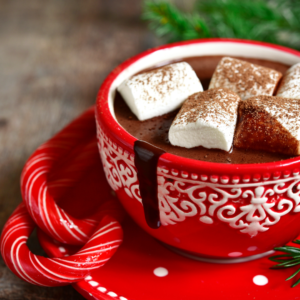 PECAN PIE
Thanksgiving and Christmas tend to be dominated with pie capturing nearly 87% of the market share. Not surprising, considering the two holidays revolve around food; a meal incomplete without dessert. During winter, dry fruits become an essential part of the diet which is why a pie made of pecans is given. This delicious, and mouth-watering buttery sweetness does well warm with a scoop of ice cream.
CHRISTMAS CAKE
Christmas cake is an English tradition that began as plum porridge. A traditional English Christmas cake is made with moist Zante currants, sultanas (golden raisins), and raisins that have been soaked in brandy, rum, whisky, or sherry. The cake may be covered in layers of marzipan, then icing, and is usually decorated, often with plaid ribbon bands and Christmas models such as snowmen, fir trees, or Father Christmas. In certain parts of the world, soaking fruits in alcohol is celebrated as it marks not only the start of the holiday season but a reason to be joyous, and merry.
EGGNOG
Here is another drink that I particularly look forward to during the holidays. It is popular during this time of the year because of its warm temperature and flavors. Cinnamon, nutmeg, and vanilla bean are all synonymous with Christmas. Alcohol could be added and the preferred choices include brandy, rum, bourbon, or whisk
And finally,
WARM APPLE CIDER
Now that I have not had it in a while. The fragrance of cinnamon lingers at home hours after the drink has been prepared and consumed. Its warmth and coziness bring a smile to the frosted lips and cheeks that otherwise would have taken their own time to be thawed.
Related: Foodie Tour in Costa Rica